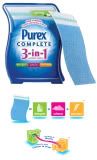 You can try the new Purex Complete 3-in-1's that they have out here. These are great money savers because you just need the one sheet to wash and dry your clothes. S
ome have even stated that you can cut the sheet in half to double your value and it still washes just as effectively.


Allow up to 10 weeks for delivery. While supplies last.







Sam's Club also has a sample of the
Bounce 4-in-1 Dryer sheets
currently available. You do not have to be a member (it asks for membership number) in order to receive the sample.